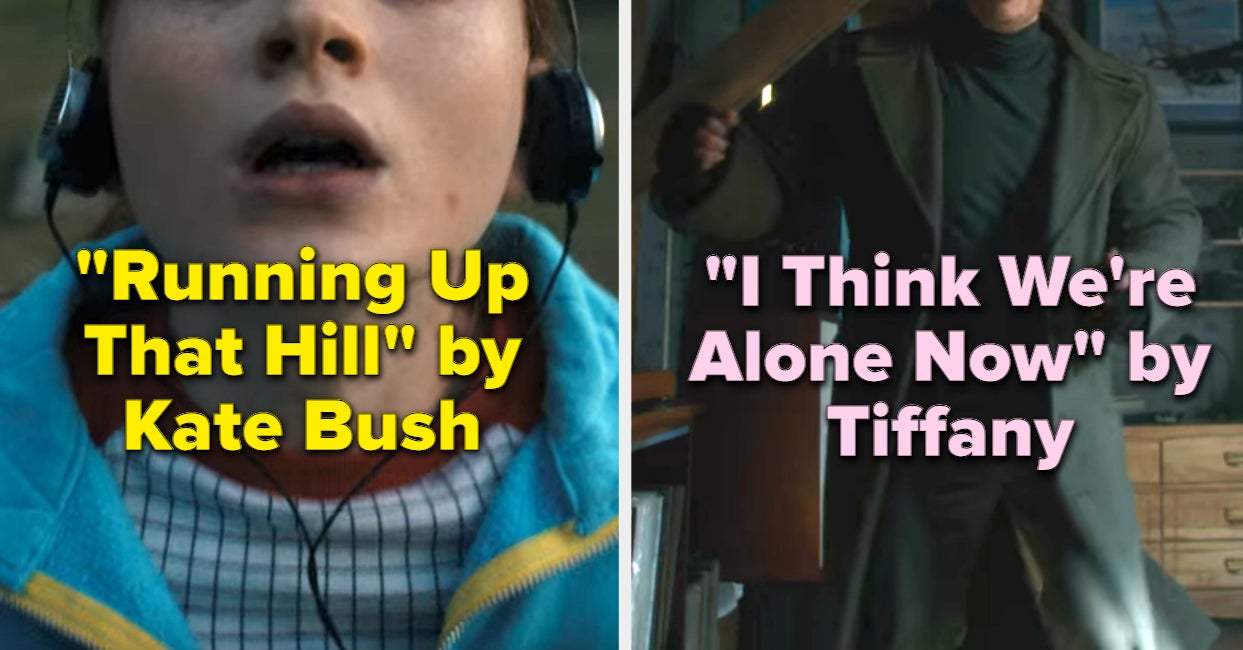 All these songs would save me from Vecna tbh.
Spoilers ahead.
Last month, Netflix gifted us with Season 4: Volume 1 of Stranger Things. It introduced us to Vecna, Steve's chest hair, The Hellfire Club, and of course, Eddie.
But most importantly, it introduced Kate Bush to a whole new generation. In the fourth episode, "Dear Billy," Bush's 1985 song, "Running Up That Hill," played a crucial role in saving Max from Vecna, and it was…emotional, to say the least.
The show's use of "Running Up That Hill" resonated with audiences. And after peaking at No. 30 on the US Billboard Hot 100 chart in 1985, this year, the song peaked at No. 4.
This isn't the first time a movie or TV show has given an older song a second life. So let's look back at these 16 songs that had a resurgence in popularity due to being featured in a popular movie or TV show:
Netflix
In February 2019, Netflix released the first season of The Umbrella Academy. In the very first episode, the Hargreeves kids dance, albeit in separate rooms, to Tiffany's 1987 cover of "I Think We're Alone Now." The song had a pretty big comeback, and even made the rounds on TikTok.
Miramax
Quentin Tarantino has reintroduced audiences to a lot of songs over the years: Nancy Sinatra's "Bang Bang" in Kill Bill, Dick Dale's "Misirlou" in Pulp Fiction, and Dave Dee, Dozy, Beaky, Mick & Tich's "Hold Tight" in Death Proof. But in 1992, he played "Stuck in the Middle With You" by Stealers Wheel over a torture scene in Reservoir Dogs. Because of this, the song, originally released in 1972, had a big resurgence in the '90s.
Disney
James Gunn's Guardians of the Galaxy (2014) opens with Chris Pratt's Peter Quill dancing to Redbone's 1974 hit "Come and Get Your Love." The movie, known for its '70s-heavy soundtrack, introduced this song, and some other classic '70s hits, to a new generation. The 2017 sequel didn't disappoint and reacquainted us with "Brandy (You're a Fine Girl)" by Looking Glass. I'm sure the third installment, which comes out next year, will give us even more iconic songs to add to our playlists.
20th Century Studios
The band Pixies released "Where Is My Mind?" in 1988. The song was on their first studio album, Surfer Rosa. Over ten years later, in 1999, the song was featured at the end of David Fincher's Fight Club. The movie introduced the song, and the band, to not only a new generation of people, but a wider audience in general. Since then, "Where Is My Mind?" has appeared in countless other movies and TV shows, and is basically a signifier that the character onscreen is struggling with mental illness.
Paramount Pictures Studios
One year after its 1975 release, Queen's beloved classic, "Bohemian Rhapsody," peaked at No. 9 on the US Billboard Hot 100. In 1992, Mike Myers chose to use the song for a scene in Wayne's World. The scene, in which Myers and his co-stars headbang to the song in a car, quickly became an iconic moment in film history. The same year Wayne's World was released, "Bohemian Rhapsody" charted again, this time at No. 2.
6. "Head Like a Hole" (Black Mirror, "Rachel, Jack and Ashley Too")
Netflix
In a 2019 episode of Black Mirror, Miley Cyrus played the fictional popstar Ashley O. Her hit song, "On a Roll" was a pop version of Nine Inch Nails' 1989 hit "Head Like a Hole." After the episode debuted, "On a Roll" was released as a single, and Billboard ranked it No. 28 on their list of 100 Best Songs of 2019. At the end of the episode, Miley's Cyrus' character performs the real version of "Head Like a Hole," opening up a whole new audience's eyes to the song (and NIN).
MGM/Courtesy Everett Collection
The Proclaimers released "I'm Gonna Be (500 Miles)" in 1988. In 1993, the movie Benny & Joon, which features the song in its opening credits, enlightened American audiences to the song. It peaked at No. 3 on the US Billboard Hot 100 chart that same year.
Atco Records
Ben E. King released his song "Stand by Me" in 1961, where it peaked at No. 4 on the Billboard Hot 100 chart. After the release of the 1986 film of the same name, which featured King's version and an instrumental score based on the song, it charted again, this time peaking at No. 9. They even made a new music video for the song, which features River Phoenix and Wil Wheaton, the young stars of the film, joining King on stage, and it's literally the cutest thing ever.
Warner Bros.
Supernatural began in 2005 and ended just two years ago in 2020. Over its 15-year run, it presented its millennial audience with countless classic rock songs from the '70s and '80s. Kansas' 1976 hit "Carry on My Wayward Son" plays at the beginning of each finale episode over a montage that recaps the season. Fans quickly latched on to the song, and it kind of became the show's unofficial theme song.
Paramount/Courtesy Everett Collection
The Righteous Brothers' 1965 cover of "Unchained Melody" peaked that same year at No. 4 on the US Billboard Hot 100 chart. After its use in the 1990 movie Ghost, it gained popularity once again and peaked at No. 13. Its newfound success was pretty substantial, and in 1992, the American Society of Composers, Authors, and Publishers announced it was the most played song that year. 
A24
Enya released "Orinoco Flow" in 1988, and then, in 2018, Bo Burnham featured the song in his movie Eighth Grade. While the song didn't reappear on the charts, it definitely had a second round of popularity. After the movie was released, the song was embraced by young millennials and Gen Z, and was pretty popular on TikTok.
Trifecta Entertainment & Media
Yes, Journey's 1981 megahit "Don't Stop Believin'" charted in 2007 and 2009 thanks to The Sopranos and Glee respectively, but years prior, the song actually gained a significant bump in popularity thanks to the MTV reality show, Laguna Beach. In its Season 2 opener, Lauren Conrad and Stephen Colletti lip-synch, barely, in a car on their way to a date. The scene doesn't even last a minute, and yet the song made it into the iTunes Top Ten right after it aired.
Columbia Pictures
After charting at No. 1 just one month after its release in 1964, The Temptations' "My Girl," saw renewed success almost thirty years later. The 1991 coming-of-age film My Girl,  set in 1972, featured the song introducing it to its very young audience. In the weeks following the success of the movie, the song made its way back onto the charts.
A24
For years after its 1996 release, Dave Matthews Band's "Crash into Me" was seen as a bit of a joke; it's overly sappy, a little trashy, and definitely a bit creepy and perverse. But when it appeared in 2017's Lady Bird, the meaning had completely changed. The way that the director, Greta Gerwig, used it in the movie as a turning point for the main character, Lady Bird — her moment of realization of who she is as a person — resonated with audiences. 
Miramax/Courtesy Everett Collection
In 1977, Iggy Pop released his song "Lust for Life" which was co-written by David Bowie. Almost twenty years later in 1996, the Ewan McGregor-led British film Trainspotting used the song, and also featured it in the trailer. The song regained popularity and even peaked at No. 26 on the UK Singles Chart that same year.
16. "Pink Moon" ("Milky Way" Volkswagen ad)
Volkswagen
And finally, in 1972, two years before his death, English musician Nick Drake released his final album Pink Moon. In 1999, Volkswagen debuted a commercial for their Volkswagen Cabriolet featuring a song from the album, also titled "Pink Moon." In the weeks following the ad, Pink Moon album sales increased by five hundred percent. 
What song or artist did you discover from a movie or TV show? Let us know in the comments.
TV and Movies
Get all the best moments in pop culture & entertainment delivered to your inbox.